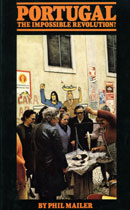 Portugal: The Impossible Revolution?

Mailer, Phil,
Publisher: Black Rose Books, Montreal, Canada
Year Published: 1977
Pages: 400pp ISBN: 0-919618-33-2
Dewey: 301.6333
Resource Type: Book
Cx Number: CX6497
The story of what happened in Portugal between April 25, 1974 and November 25, 1975, as seen and felt by a deeply committed participant.
Abstract:
-
Table of Contents
Preface
Introduction
Chronology
Glossary
1. The First Week
2. The Background
Problems of capitalist underdevelopment
The worker's movement
The politicians emerge
The Peralta affair
3. The First Three Months
Sizing things up
Timex, Sogantal, Mabor, CTT
The cultural non-revolution
Collapse of the First Provisional Government
4. The Return to Reality
TAP, Lisnave and other disputes
The anti-strike law and the rightist backlash
September 28
The Third Provisional Government
5. The Upsurge
The Committees
The trade union question
The emergence of Inter-Empresas
The Melo Antunes Economic Plan
6. Agrarian Struggles
The rural structure
Early confrontations
Taking the land
7. The Political Chessboard
The Right
The Centre
The Left
The polarisation
8. The MFA
Beginnings
April 25, 1974
Soldiers' and Sailors' Committees
What political role?
March 11, 1975.
9. Urban Struggles
Background
The occupations
Housing struggles
Inter, CRAM, SAAL, and the shanties
Machismo and the women's movement
10. The Elections and Beyond
Electoral arithmetic
'Popular Power' and the military
The Republica and Radio Renascenca affairs
COPCON and the MRPP
11. The Great Non-Party
Autonomous workers' struggles
Inter-Empresas and the unions
The Revolutionary Workers' Councils
The cooperative movement
Land occupations
Neighborhood Committees
12. Crises
Backlash in the North
The road to state capitalism
The crises in leninist ideas
The Sixth Government and the advance of "The Nine"
13. The Situation in the Class
Popular Assemblies
Everyday life in the cooperatives
Beyond local Workers' Committees
14. De-Socialisation
The media of control and the control of the media
Military factions
Towards breaking point
15. November 25
16. A Balance Sheet
The strengthening of state capitalism
Workers' responses
Cooperatives
Information
Recuperation of popular power
Appendices
Subject Headings