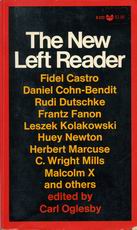 The New Left Reader

Oglesby, Carl (ed.)
Publisher: Grove Press, USA
Year Published: 1969
Pages: 312pp Resource Type: Book
Cx Number: CX6451
An anthology of writings from the 1960s New Left.
Abstract:
-
Table of Contents
Introduction: The Idea of The New Left
Part One: Understanding Leviathan
C. Wright Mills: The Politics of Responsibility
Herbert Marcuse: from One-Dimensional Man
Andre Gorz: from Strategy for Labor
Louis Althusser: Contradiction and Overdetermination
Martin Nicolaus: The Unknown Marx
Stuart Hall, Raymond Williams, and Edward Thomson: from May Day Manifesto
Leszek Kolakowski: The Concept of the Left
Part Two: The Revolutionary Frontier
Frantz Fanon: Algeria Unveiled
Fidel Castro: The Universal Conscience
Malcolm X: "I Don't Mean Bananas"
Huey Newton: A Prison Interview
Part Three: A New Revolution?
Rudi Dutschke: On Anti-authoritarianism
Daniel and Gabriel Cohn-Bendit: The Battle of the Streets - "C'est Pour Toi Que Tu Fais La Revolution"
The New Left Reader
The Appeal from the Sorbonne
Tom Fawthrop, Tom Nairn, and David Triesman: Three Student Risings
Mark Rudd: Columbia - Notes on the Spring Rebellion
Subject Headings