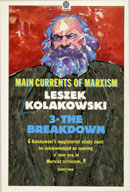 Main Currents of Marxism
Volume 3: The Breakdown
Kolakowski, Leszek
Publisher: Oxford University Press
Year Published: 1978
Pages: 548pp ISBN: 0-19-285109-8
Library of Congress Number: HX21 78-40247 Dewey: 335.4'09'034
Resource Type: Book
Cx Number: CX6363
Kolakowski examines the origins and development of Stalinism, as well as the contributions of Trotsky, Gramsci, Lukacs, Marcuse, and others, and traces developments in Marxism it period after the Second World War.
Abstract:
-
Table of Contents
BIBLIOGRAPHICAL NOTE
I. THE FIRST PHASE OF SOVIET MARXISM. THE BEGINNINGS OF STALINISM
1. What was Stalinism?
2. The stages of Stalinism
3. Stalin's early life and rise to power
4. Socialism in one country
5. Bukharin and the N. E. P ideology. The economic controversy of the 1920s
II. THEORETICAL CONTROVERSIES IN SOVIET MARXISM IN THE 1920S
1. The intellectual and political climate
2. Bukharin as a philosopher
3. Philosophical controversies: Deborin versus the mechanists
III. MARXISM AS THE IDEOLOGY OF THE SOVIET STATE
1. The ideological significance of the great purges
2. Stalin's codification of Marxism
3. The Comintern and the ideological transformation of international Communism
IV. THE CRYSTALLIZATION OF MARXISM-LENINISM AFTER THE SECOND WORLD WAR
1. The wartime interlude
2. The new ideological offensive
3. The philosophical controversy of 1947
4. The economic debate
5. Marxism-Leninism in physics and cosmology
6. Marxist-Leninist genetics
7. General effect on Soviet science
8. Stalin on philology
9. Stalin on the Soviet economy
10. General features of Soviet culture in Stalin's last years
11. The cognitive status of dialectical materialism
12. The roots and significance of Stalinism. The question of a 'new class'
13. European Marxism during the last phase of Stalinism
V. TROTSKY
1. The years of exile
2. Trosky's analysis of the Soviet system, the bureaucracy, and 'Thermidor'
3. Bolshevism and Stalinism. The idea of Soviet democracy
4. Criticism of Soviet economic and foreign policy
5. Fascism, democracy, and war
6. Conclusions
VI. ANTONIO GRAMSCI: COMMUNIST REVISIONISM
1. Life and works
2. The self-sufficiency of history; historical relativism
3. Critique of 'economism'. Prevision and will
4. Critique of materialism
5. Intellectuals and the class struggle. The concept of hegemony
6. Organization and mass movement. The society of the future
7. Summary
VII. GYORGY LUKACS: REASON IN THE SERVICE OF DOGMA
1. Life and intellectual development. Early writings
2. The whole and the part: critique of empiricism
3. The subject and object of history. Theory and practice. What is and what ought to be. Critique of neo-Kantianism and evolutionism
4. Critique if the 'dialectic of nature' and the theory of reflection. The concept of reification
5. Class-consciousness and organization
6. Critique of irrationalism
7. The whole, mediation, and mimesis as aesthetic categories
8. Reakusn, socialist realism, and the avant-garde
9. The exposition of Marxist mythology. Commentary
10. Lukac as a Stalinist, and his critique of Stalinism
VIII. KARL KORSCH
1. Biographical date
2. Theory and practice. Movement and ideology. Historical relativism
3. Three phases of Marxism
4. Critique of Kautsky
5. Critique of Leninism
6. A new definition of Marxism
IX. LUCIEN GOLDMANN
1. Life and writings
2. Genetic structuralism, Weltanschauung, and class-consciousness
3. The tragic world-view
4. Goldmann and Lukacs. Comment on genetic structuralism
X. THE FRANKFURT SCHOOL AND 'CRITICAL THEORY'
1. Historical and biographical notes
2. Principles of critical theory
3. Negative dialectics
4. Critique of existential 'authenticism'
5. Critique of 'enlightenment'
6. Erich Fromm
7. Critical theory(continued). Jurgen Habermas
8. Conclusion
XI. HERBERT MARCUSE: MARXISM AS A TOTALITARIAN UTOPIA OF THE NEW LETS
1. Hegel and Marx versus positivism
2. Critique of contemporary civilization
3. 'One-dimensional man'
4. The revolution against freedom
5. Commentary
XII. ERNST BLOCH: MARXISM AS A FUTURISTIC GNOSIS
1. Life and writings
2. Basic ideas
3. Greater and lesser day-dreams
4. Marxism as a 'concrete Utopia'
5. Death s an anti-Utopia. God does not yet exist, but he will
6. Matter and materialism
7. Natural law
8. Bloch's political orientation
9. Conclusion and comments
XIII. DEVELOPMENTS IN MARXISM SINCE STALIN'S DEATH
1. 'De-Stalinization'
2. Revisionism in Eastern Europe
3. Yugoslav revisionism
4. Revisionism and orthodoxy in France
5. Marxism and the 'New Left'
6. The peasant Marxism of Mao Tse-tung
EPILOGUE
SELECTIVE BIBLIOGRAPHY
INDEX
Subject Headings