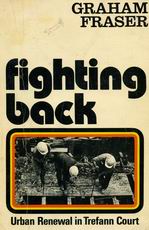 Fighting Back
Urban Renewal in Trefann Court
Fraser, Graham
Publisher: Hakkert, Toronto, Canada
Year Published: 1972
Pages: 298pp
Dewey: 352.008
Resource Type: Book
Cx Number: CX6289
A detailed report on the conflict between city bureaucrats and residents of Trefann Court, a five-block area just east of downtown Toronto. Bent on tearing down as a step towards urban renewal, the planners and government officials met organized resistance by homeowners, landlords and tenants for over six years.
Abstract:
-
Table of Contents
Preface
Note from the NDP
Table of Plates
Introduction
1. The Turning Point: February 12, 1970
2. Trefann Court and Trefann People
Cabbagetown - The Make-up of Trefann - Looking Back - John Wawrin - Morton Montgomery - Ray and Phyllis Tomlinson - Gus and Edna Dixon - Margaret LeMay - Steve Necheff - George Brewer - The Trefann Mothers and the School Question
3. Good Intentions: 1934-1956
Toronto's Centennial; Unplanned Toronto; Old Neighborhoods and Slum Clearance; Regent Park
4. Planning Towards Trefann Court: 1956-1966
Redevelopment for Trefann - The Alexandra Park Problem - Pressure for Action - The 1966 Scheme
5. Down the Garden Path: 1966
Forming the Residents Association - The Community Organizers - Opposing the Plan
6. Bureaucrat Politics: January-May 1967
Walter Manthorpe
7. Expropriation - What's Yours is Negotiable
The Don Mount Expropriations - The Hold-Outs - The New Expropriations Act
8. The Split: September 1967-March 1968
The Cycle of Deterioration - The Cold Houses Incident - The Manthorpe Report - Organizers and Outsiders - The Benson Letter
9. Three Levels of Government: 1968-1969
City and Province - Federal Politicians - The Hellyer Task Force Reports
10. Electoral Politics: 1969
The Ward Boundaries Fight - Oscar Sigsworth - John Sewel and Karl Jaffary - The Mayoralty Campaign
11. All the King's Horses - The Planning Process (I)
The Establishment of the Working Committee - The Hiring of the Planner - First Steps in Planning - The Big Blow-up
12. Consensus and Control - The Planning Process (II)
The Social Objectives of the Scheme - The Long Delay - Ray's Lane - The Debate over the Acquisition of 438-440 Queen St.
13. The Scheme - Innovations, Problems and A Question of Power
Innovations - Rehabilitation - Technical Problems - The Fight over the Implementation Staff - Last Minute Pressures - The Plan is Passed: January 6, 1972 - Approval by the Municipality
14. Conclusion
How Much Power did Trefann Win? - The Question of Legitimacy - Lessons from Trefann
Notes
Bibliography
Index
Subject Headings