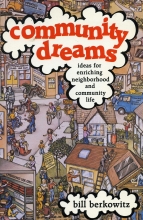 Community Dreams
Ideas for Enriching Neighbourhood and Community Life
Berkowitz, Bill
Publisher: Impact Publishers, California, USA
Year Published: 1984
Pages: 255pp Price: $8.95 ISBN: 0-915166-29-1
Library of Congress Number: HN90.C6B46 Dewey: 307.3362
Resource Type: Book
Cx Number: CX6225
A compilation of vignettes, fragments and thought starters that provides stimulating ideas for practical community transformation.
Abstract:
Community Dreams is a compilation of "vignettes, fragments and thought starters" that provides stimulating ideas for the reader to implement within his/her communities in order to improve the conditions of his/her neighborhood. Community Dreams is both a way of thinking and doing, thus the author gives examples of "practical utopias" from his own research, imagination and experience.
Each section of the book is organized according to what the author calls "dream topics": either a central theme upon which one mobilizes, or a logistical factor which needs to be considered when seeking to change one's community (ie: urban design, emergencies, transportation, poverty, workplaces, family etc).
The book centres around the notion that people find power, control and joy within the places they live. Furthermore, with increased government cutbacks in community programs the home is where a person's most important needs are met. Berkowitz recommends "tinkering with the equipment" of one's community, changing the mindset we use to see our communities, and offers partial visions to the reader for review. In his Afterword, Berkowitz urges readers to hold on to their utopias and maintain a positive attitude in spite of obstacles and logistical limitations to realizing their communal dreams. Berkowitz argues that implementing ideas such as the ones discussed in this compilation requires limited resources, capital, government intervention, technical expertise and time. Rather, the key components for the successful implementation of such "small scale" ideas in a community are trust, strength of will, cooperation and sharing.
[Abstract by Amanpreet Dhami]
Table of Contents
Preface
Community Dreams:
Skills
Neighborhoods
Centers
Food
Exchanges
Street Life
Economic Development
Government
Energy
Trash
Housing
Urban Design
Health
Safety
Fire
Emergencies
Transportation
Church
Poverty
Agencies
Support Groups
Festivals
Media
Information
Libraries
Parks
Recreation
Blocks
Employment
Workplaces
Businesses
Arts
Beautification
Families
Traditions
Afterword
Notes
Sources
An Invitation
Acknowledgements
Subject Headings