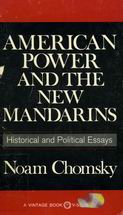 American Power and the New Mandarins

Chomsky, Noam
Publisher: Random House, New York, USA
Year Published: 1969
Pages: 404pp Dewey: 959.7
Resource Type: Book
Cx Number: CX6167
Chomsky writes about American power and violence, especially in the context of the Vietnam war, and he focuses especially on the complicity of American intellectuals in supporting and enabling the American imperial project.
Abstract:
-
Contents:
Introduction
Objectivity and Liberal Scholarship
The Revolutionary Pacifism of A.J. Muste: On the Backgrounds of the Pacific War
The Logic of Withdrawal
The Bitter Heritage: A Review
Some Thoughts on Intellectuals and the Schools
The responsibility of Intellectuals
On Resistance
Supplement to "On Resistance"
Epilogue
Subject Headings