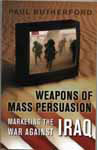 Weapons of Mass Persuasion
Marketing the War Against Iraq
Rutherford, Paul
Publisher: University of Toronto Press, Toronto, Canada
Year Published: 2004
Pages: 226pp ISBN: 0-8020-8651-9
Library of Congress Number: DS79.76.R87 2004 Dewey: 956.7044'3
Resource Type: Book
Cx Number: CX6134
Rutherford, an academic and media critic at the University of Toronto, tries to show how the marketing campaign for the war against Iraq was constructed and carried out with the aid of a compliant media.
Abstract:
Rutherford claims that the War on Terror has been different in nature from any previous war because it has been marketed to the American people on a level never seen before. 60% of Americans originally opposed the Iraq war because the UN did not support it. This book claims that there is less opposition now due to government propaganda and the influence of the media. The war looks like a Disney movie, according to one interviewed citizen. It has been described as a fight of good versus evil and supported by slogans pertaining to the courage of the United States for getting involved in the crisis and opposing terrorism. Rutherford goes as far as to say that the war has been processed, advertised and consumed willingly by the American people. He analyzes speeches, political cartoons, media commentaries and news reports to demonstrate his argument.
This book looks at the experience of the war in America. The war against Iraq had had more media coverage than any before and its story has been told, possibly in a censored way, to every citizen at home. In eight chapters, Rutherford argues that the American people have been blind to the true nature of this war, while all of its positive aspects have been paraded before their eyes. He has collected facts to support his argument, as well as testimonials from private citizens regarding their own experiences of war from the home front.
[Abstract by Mia Manns]
Subject Headings