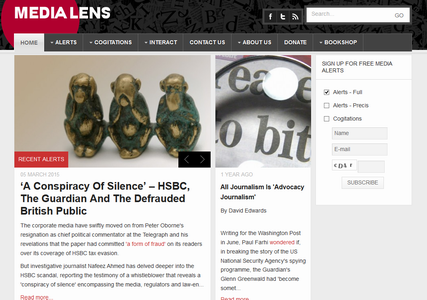 Medialens

http://www.medialens.org/
Resource Type: Website
Cx Number: CX5691
Correcting for the distorted vision of the corporate media.
MediaLens is a response based on our conviction that mainstream newspapers and broadcasters provide a profoundly distorted picture of our world. We are convinced that the increasingly centralised, corporate nature of the media means that it acts as a de facto propaganda system for corporate and other establishment interests. The costs incurred as a result of this propaganda, in terms of human suffering and environmental degradation, are incalculable.
In seeking to understand the basis and operation of this systematic distortion, we flatly reject all conspiracy theories and point instead to the inevitably corrupting effects of free market forces operating on and through media corporations seeking profit in a society dominated by corporate power.
Subject Headings