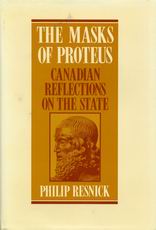 The Masks of Proteus
Canadian Reflections on the State
Resnick, Philip
Publisher: McGill-Queen's University Press, Canada
Year Published: 1990
Pages: 340pp ISBN: ISBN 0-7735-0731-0
Resource Type: Book
Cx Number: CX4578
A multi-faceted study of the modern state.
Abstract:
-
Table of Contents:
Acknowledgments
Introduction
PART ONE
POLITICAL THEORY
1. Democracy and Its Philosophical Rivals: Theories of the State
2. Jacobins Strains in Canada
3. "Dominion" and "Province", "Government" and "State"
4. Montesquieu Revisited
5. Burke or Rousseau? Parliament or People?
PART TWO
POLITICAL ECONOMY AND SOCIOLOGY
6. Functions of the Modern State
7. The Limits of a Royal Commission
8. "Organized Capitalism" and the Canadian State
9. From Semi-periphery to Perimeter of the Core: Canada in the Capitalist World Economy
PART THREE
NATIONALISM, FEDERALISM, SOCIALISM
10. English Canada and Quebec: Stat v. Nation
11. Federalism and Socialism: A Reconsideration
12. Democracy, Socialism and the State
Notes
Index
Subject Headings