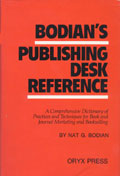 Bodian's Publishing Desk Reference
A Comprehensive Dictionary of Practices and Techniques for Book and Journal Marketing and Bookselling
Bodian, Nat G.
Publisher: Oryx Press, New York, USA
Year Published: 1988
Pages: 439pp ISBN: 0-89774-454-3
Book Type: Handbooks/Manuals
Library of Congress Number: Z282.5.B63 Dewey: 070.5'0321
Resource Type: Book
Cx Number: CX3524
Abstract: Social change groups and other non-profit organizations may not be publishers, technically speaking, but with the exception of fundraising, publishing is probably the principal activity of half the grassroots organizations in the country. Publishing skills and information about publishing require time and sweat to acquire, and are often lost when key staff or group members leave. No book can overcome that problem, but Bodian's Publishing and Desk Reference is a tremendously helpful sourcebook about publishing and about marketing books and periodicals. The volume is organized in a dictionary-style format, but the entries are extensive enough to contain much useful information, as well as many nuggets of advice. It contains several appendices, on such topics as "19 Ideas for Attracting Attention to a Special Book at an Exhibit".