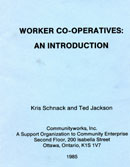 Worker Co-operatives
An Introduction
Schnack, Kris; Jackson, Ted
Publisher: Communityworks, Inc., Ottawa, Canada
Year Published: 1985
Pages: 45pp Dewey: 334.0971
Resource Type: Article
Cx Number: CX3204
Abstract:
The purpose of this publication is to provide "a brief common-sense introduction to worker co-operatives." It concerns itself with the practicalities of starting a worker co-operative, rather than with issues of policy and philosophy. An Intoduction chapter explains what a worker co-operative is. The booklet then looks at how to start one, at legal structures and incorporation, at the organization and management of a working co-operative, and at sources of financial asistance. Appendices list case studies of worker co-operatives, sources of government and non-government assistance, and useful readings.
It explains that the business is characterized by four key elements:
- Ownership and control rest with those working in the enterprise'
- Membership is open to the entire workforce;
- There is no outside controlling interests;
- Control is by the membership on the democratic principle of one vote per person.
It also cautions that there are pitfalls; that it is not possible to set up a successful worker co-operative without looking thoroughly at questions such as what to produce and what the market for the product is. "The ability to produce the product is simply not enough. The skills of marketing, finance and business management are just as important.
Subject Headings