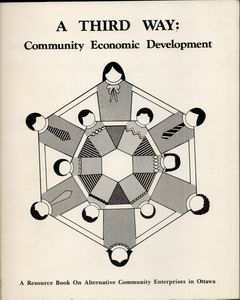 A Third Way: Community Economic Development

Year Published: 1986
Pages: 54pp Resource Type: Book
Cx Number: CX3148
Written to assist those individuals and groups interested in furthering community economic development (CED) in Ottawa. Features a directory of CED businesses in Ottawa and 3 case studies of CED businesses.
Abstract:
A THIRD WAY is a 1984 resource book on alternative community enterprises in Ottawa, already in a second printing. The book's primary purpose is to educate individuals, community groups, educational institutions and social agencies about creating community-based employment. The book contains:
- an introduction to community economic development;
- an inventroy of 10 alternative businesses in Ottawa;
- three case studies (multicultrual, Women's Centre, Ottawa Women's Credit Union and Ottawa Co-operative Garage);
- a resource list on community economic development co-operatives, credit unions, and worker
co-operratives.
Enquires should be addressed to Julia Croke. Orders of 20 or more are $2.00 per copy.
-
Table of Contents
Introduction
1. Inventory
i) Artist's Centre D'artistes Ottawa Inc (Gallery 101)
ii) Multicultural Women's Centre
iii) Octopus Books
iv) Ottawa Community Credit Union
v) Ottawa Co-operative Garage Ltd
vi) Ottawa Federation of Housing Co-operatives Inc
vii) Ottawa Women's Credit Union
viii) Real Food Co-op Inc
ix) Shoppers' Co-operative Inc
x) Sunwrights
2. Case Studies
i) Multicultural Women's Centre
ii) Ottawa Co-operative Garage Ltd
iii) Ottawa Women's Credit Union
3. Conclusion
Appendix: Resource List
Subject Headings