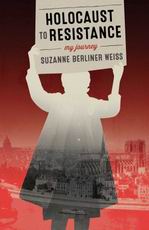 Holocaust to Resistance
My journey
Weiss, Suzanne Berliner
Publisher: Roseway Publishing
Year Published: 2019
Pages: 312pp ISBN: 9781773632186
Library of Congress Number: HX84.W45 A3 2019 Dewey: 335.0092--dc23
Resource Type: Book
Cx Number: CX23824
A memoir by Suzanne Berliner Weiss, a holocaust survivor born in France, who came to North America and was active in radical causes in the United States and Canada.
Abstract:
-
Publisher's Description:
Holocaust to Resistance, My Journey is a powerful, awe-inspiring memoir from author and activist Suzanne Berliner Weiss. Born to Jewish parents in Paris in 1941, Suzanne was hidden from the Nazis on a farm in rural France. Alone after the war, she lived in progressive-run orphanages, where she gained a belief in peace and brotherhood. Adoption by a New York family led to a tumultuous youth haunted by domestic conflict, fear of nuclear war and anti-communist repression, consignment to a detention home and magical steps toward relinking with her origins in Europe.
At age seventeen, Suzanne became a lifelong social activist, engaged in student radicalization, the Cuban Revolution, and movements for Black Power, women's liberation, peace in Vietnam and freedom for Palestine. Now nearing eighty, Suzanne tells how the ties of friendship, solidarity and resistance that saved her as a child speak to the needs of our planet today.