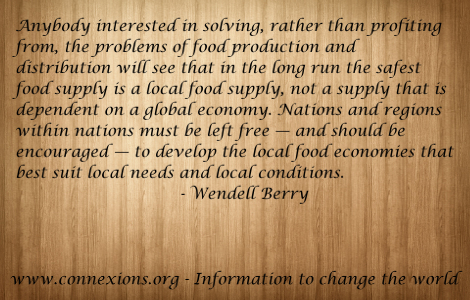 GMOs, Global Agribusiness and the Destruction of Choice

Todhunter, Colin
http://www.colintodhunter.com/2018/01/gmos-global-agribusiness-and.html
http://www.counterpunch.org/2018/01/09/gmos-global-agribusiness-and-the-destruction-of-choice/
Date Written: 2018-01-07
Year Published: 2018
Resource Type: Article
Cx Number: CX21888
One of the myths perpetuated by the pro-GMO (genetically modified organisms) lobby is that critics of GMOs in agriculture are denying choice to farmers and have an ideological agenda. The narrative is that farmers should have access to a range of tools and technologies, including GM crops. But GM agriculture is not 'feeding the world', nor has it been designed to do so. The choice for farmers between a technology based on broken promises and conventional non-GMO agriculture is no choice at all.
Abstract:
-
Excerpt:
Localisation and traditional methods of food production have given way to globalised supply chains dominated by transnational companies policies and actions which have resulted in the destruction of habitat and livelihoods and the imposition of corporate-controlled, chemical-intensive (monocrop) agriculture that weds farmers and regions to a wholly exploitative system of neoliberal globalization.
Whether it involves the undermining or destruction of what were once largely self-sufficient agrarian economies in Africa or the devastating impacts of soy cultivation in Argentina or palm oil production in Indonesia, the role of transnational agribusiness has been devastating.
What choice do we as consumers have over the tens of thousands of synthetic agrochemicals contaminating our soil, oceans and food. How did they get on the market in the first place? Again, largely as a result of fraud.
What choice do consumers have over GM food when food conglomerates and Bayer have spent large sums of money to prevent labelling?
What choice does the public have when governments become de facto mouthpieces of the industry as they collude behind closed doors with powerful corporations?
What choice did Mexican farmers and consumers have over their right to healthy food when NAFTA (driven by the powerful food/agribusiness lobby in the US) drove farmers out of business and consumers towards bad food and poor health?
What right have corporations like Monsanto and Bayer to damage health as well as natural resources that belong to humanity collectively? These entities with histories of criminality have convinced governments and the public that they have a right to own humanity's collective resources.
Subject Headings