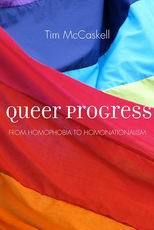 Queer Progress
From Homophobia to Homonationalism
McCaskell, Tim
Publisher: Between the Lines, Toronto, Canada
Year Published: 2016
Pages: 510pp Price: $39.95 ISBN: 978-1-77113-278-7
Library of Congress Number: HQ76.8.C3M323 2016 Dewey: 306.76'609713
Resource Type: Book
Cx Number: CX20165
A political memoir by a leading gay rights and AIDS activist.
Abstract:
-
Table of Contents:
Acknowledgements
Introduction: How did we get here from there?
Part I A New World in Birth
1 Invisible
2 Getting Noticed
3 Noticed
4 Shifting Sands
Part II The Rise of the Right
5 Onslaught
6 Sex and Death
7 Plague and Panic
Part III Walking With the Devil
8 By Any Means Necessary
9 Great Expectations
10 Seduction
Part IV Model Minority
11 Courtship
12 We're Not in Kansas Anymore
13 Homonationalism
Conclusion Looking Back, Looking Forward
Acronyms and Abbreviations
Notes
Index
From Publisher:
How did a social movement evolve from a small group of young radicals to the incorporation of LGBTQ communities into full citizenship on the model of Canadian multiculturalism?
Tim McCaskell contextualizes his work in gay, queer, and AIDS activism in Toronto from 1974 to 2014 within the shift from the Keynesian welfare state of the 1970s to the neoliberal economy of the new millennium. A shift that saw sexuality —once tightly regulated by conservative institutions—become an economic driver of late capitalism, and sexual minorities celebrated as a niche market. But even as it promoted legal equality, this shift increased disparity and social inequality. Today, the glue of sexual identity strains to hold together a community ever more fractured along lines of class, race, ethnicity, and gender; the celebration of LGBTQ inclusion pinkwashes injustice at home and abroad.
Queer Progress tries to make sense of this transformation by narrating the complexities and contradictions of forty years of queer politics in Canada's largest city.
Subject Headings