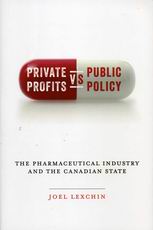 Private Profits vs Public Policy
The Pharmaceutical Industry and the Canadian State
Lexchin, Joel
Publisher: University of Toronto Press, Toronto, Canada
Year Published: 2016
Pages: 364pp ISBN: 978-1-4426-1659-1
Library of Congress Number: HD9670.C22L48546 201 Dewey: 338.4'761510971
Resource Type: Book
Cx Number: CX20092
According to Joel Lexchin, "Given the central role that medicines play in keeping us healthy, it is essential that we understand the policy environment that governs drug development, from the initial basic research to the sale of the manufactured produces to the patients that use them."
Abstract:
-
Table of Contents:
List of boxes, figures, and tables
Preface
Abbreviations
Introduction: Why do we care about the pharmaceutical industry in Canada?
1. (De)regulation through cooperation
2. Biased testing, hidden results, and the regulation of clinical trials
3. Approving new drugs: Better or just more?
4. Regulating promotion or licensing deception?
5. Health Canada and drug safety: How safe are we?
6. Is intellectual property a right?
7. How revenue is generated: Prices, volume, mix, and overall spending
8. Who gets value from research and development?
9. Canada, the pharmaceutical industry, and access to medicines in the Global South
10. Courage, my friends; 'tis not too late to build a better world
Acknowledgements
References
Index
Publisher's Description:
The widespread condemnation of drastic price increases on life-saving drugs highlights our growing dependency on and vulnerability to international pharmaceutical conglomerates. However, aren't the interests of the public supposed to supersede the pursuit of private profit?
In his new work, Private Profits versus Public Policy, Joel Lexchin addresses this question as he examines how public policy with respect to the pharmaceutical industry has evolved in Canada over the past half century. Although the Canadian government is supposed to regulate the industry to serve the needs of public health, waves of deregulatory reforms and intellectual property rights legislation have shifted the balance of power in favour of these companies' quest for profit. Joel Lexchin offers a series of recommendations to tip the scale back in the public's favour. This enlightening work is the first book that deals exclusively with the pharmaceutical industry in Canada in over thirty years.
Subject Headings