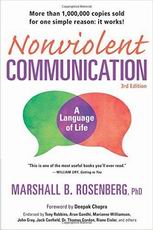 Nonviolent Communication
A Language of Life, 3rd Edition: Life-Changing Tools for Healthy Relationships
Rosenberg, Marshall B.
Publisher: Puddledancer Press
Year Published: 2015
Pages: 280pp Price: 15.64 ISBN: 9781892005281
Resource Type: Book
Cx Number: CX19403
The latest edition of the communication guide that has sold more than 1,000,000 copies. An enlightening look at how peaceful communication can create compassionate connections with family, friends, and other acquaintances, this international bestseller uses stories, examples, and sample dialogues to provide solutions to communication problems both at home and in the workplace.
Subject Headings