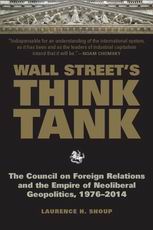 Wall Street's Think Tank
The Council on Foreign Relations and the Empire of Neoliberal Geopolitics, 1976-2014
Shoup, Laurence H.
Publisher: Monthly Review
Year Published: 2015
Pages: 352pp ISBN: 9781583675519
Library of Congress Number: JZ27.C6S56 2015 Dewey: 327.73 23
Resource Type: Book
Cx Number: CX18454
The Council on Foreign Relations is the most influential foreign-policy think tank in the United States, claiming among its members a high percentage of government officials, media figures, and establishment elite. For decades it kept a low profile even while it shaped policy, advised presidents, and helped shore up U.S. hegemony following the Second World War.
Abstract:
From publisher:
"Wall Street's Think Tank follows the CFR from the 1970s through the end of the Cold War and the collapse of the Soviet Union to the present. It explains how members responded to rapid changes in the world scene: globalization, the rise of China, wars in Iraq and Afghanistan, and the launch of a "War on Terror," among other major developments. Shoup argues that the CFR now operates in an era of "Neoliberal Geopolitics," a worldwide paradigm that its members helped to establish and that reflects the interests of the U.S. ruling class, but is not without challengers. Wall Street's Think Tank is an essential guide to understanding the Council on Foreign Relations and the shadow it casts over recent history and current events."