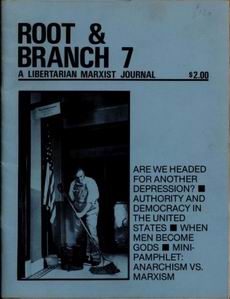 Root & Branch: A Libertarian Marxist Journal, #7

http://www.connexions.org/CxArchive/Misc/RootBranch7.pdf
http://libcom.org/library/root-branch-7
Date Written: 1978-01-01
Publisher: Root & Branch, USA
Year Published: 1978
Resource Type: Serial Publication (Periodical)
Cx Number: CX16478
Articles on the class situation in Spain, authority and democracy in the United States, Marxism and Anarchism.
Abstract:
-
Contents:
Introduction
On the Class Situation in Spain - Charles Reeve
Are We Headed for Another Depression? - 'Mose' (Fred Moseley)
Authority and Democracy in the United States - Paul Mattick Sr.
Mini-Pamphlet: Anarchism vs. Marxism - R&B intro
Anarchism vs. Marxism: A few notes on an old theme - Ulli Diemer
Bakunin vs. Marx. The continuing debate - Ulli Diemer
Root & Branch
When Men Become Gods - Alan Wallach
Reviews—
Food First : Beyond the Myth of Scarcity - reviewed by Gary Roth
Marx and Keynes : The Limits of the Mixed Economy - reviewed by Rick Burns
Correspondence
Subject Headings