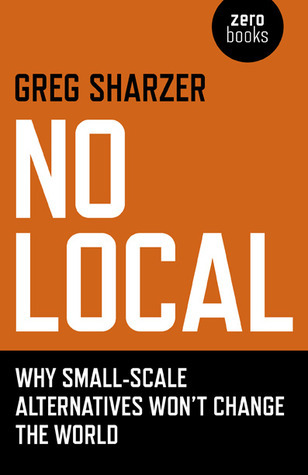 No Local
Why Small-Scale Alternatives Won't Change The World
Sharzer, Greg
Date Written: 2012-04-01
Publisher: Zero Books
Year Published: 2012
Pages: 189pp ISBN: 978-1846946714
Library of Congress Number: HD75.6.S5 2012 Dewey: 338.9
Resource Type: Book
Cx Number: CX16274
Local food, local business and buying local won't change the world. Challenging market priorities will. Greg Sharzer outlines why.
Abstract:
Can making things smaller make the world a better place? No Local takes a critical look at localism, an ideology that says small businesses, ethical shopping and community initiatives like gardens and farmers' markets can stop corporate globalization.
These small acts might make life better for some, but they don't challenge the drive for profit that's damaging our communities and the earth. No Local shows how localism's fixation on small comes from an outdated economic model. Growth is built into capitalism. Small firms must play by the same rules as large ones, cutting costs, exploiting workers and damaging the environment. Localism doesn't ask who controls production, allowing it to be co-opted by governments offloading social services onto the poor. At worst, localism becomes a strategy for neoliberal politics, not an alternative to it.
[From publisher]