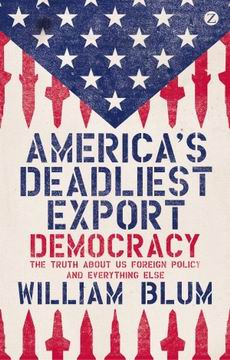 America's Deadliest Export: Democracy
The Truth About US Foreign Policy and Everything Else
Blum, William
Publisher: Zed Books (UK), Fernwood Books (Canada)
Year Published: 2013
Pages: 355pp Price: $31 ISBN: 9781552665596
Resource Type: Book
Cx Number: CX15022
Since World War II, the world has believed that US foreign policy means well, and that America's motives in spreading democracy are honorable, even noble. William Blum, a leading non-mainstream chronicler of American foreign policy, argues that nothing could be further from the truth. Moreover, unless this fallacy is unlearned, and until people understand fully the worldwide suffering American policy has caused, we will never be able to stop the monster.
Abstract:
-
Table of Contents
Introduction
U.S. Foreign Policy vs. the World
Terrorism
Iraq
Afghanistan
Iran
George W. Bush
Condoleezza Rice
Human Rights, Civil Liberties and Torture
Wikileaks
Conspiracies
Yugoslavia
Libya
Latin America
Cuba
The Cold War and Anti-Communism
The 1960s
Ideology and Society
Our Precious Environment
The Problem with Capitalism
Media
Barack Obama
Patriotism
Dissent and Resistance in America
Religion
Laughing Despite the Empire
But What Can We Do?
Subject Headings