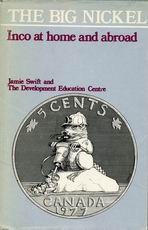 The Big Nickel
Inco at home and abroad
Swift, Jamie, and the Development Education Centre
Publisher: Between the Lines, Toronto, Canada
Year Published: 1977
Pages: 173pp ISBN: 0-919946-0504 pa
Library of Congress Number: HD9539.N52C28 Dewey: 338.7'6'69733
Resource Type: Book
Cx Number: CX14951
An account of the economic power of the world's largest producer of nickel, how it operates in Canada and the Third World, and its human consequences. The Big Nickel also looks at the resistance to the corporation, and the union-busting, attacks by company goons, and successful organizing drives.
Abstract:
-
Table of Contents
Acknowledgements
Foreword
Introduction
The Birth of a Monopoly
Who Dug the Mines?
Inco in Guatemala...
...And in Indonesia
New Growth Strategies : The End of Motherhood
Scorched Earth...
...And Broken Bodies
Why Inco?
Appendix : Working in Thompson
Afterword
Notes
Subject Headings