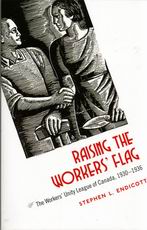 Raising the Workers' Flag
The Workers' Unity League of Canada, 1930-1936
Endicott, Stephen L.
Publisher: University of Toronto Press, Canada
Year Published: 2012
Pages: 442pp ISBN: 978-1-4426-1226-6
Library of Congress Number: HD8106.E54 2012 Dewey: 331.8097109'043
Resource Type: Book
Cx Number: CX14697
A history of the Workers' Unity League, the Canadian affiliate of the Communist Red International of Labour Unions.
Abstract:
-
Table of Contents
Preface
Abbreviations
1. Workers in Canada's Second Industrial Revolution
2. The Red International
3. Getting Started
4. Going to 'Mecca'
5. 1931: Trial by Fire
6. Red Blairmore
7. August 1932: Confronting the Prime Minister
8. The First Congress of the Workers' Unity League 1932
9. Women of the Workers' Unity League: Taking Their Place Side by Side as Activists in
the Labour Market
10. Hard Rock Miners: Anyox - Noranda - Flin Flon
11. 1933: Gaining Momentum
12. Sweatshops and Militancy in the Needle Trades
13. Woodsmen of the West
14. Fishers in the Salish Sea
15. Not Hot Cakes or Foremen: On to Ottawa!
16. Changing Times: The Final Convention of the Workers' Unity League
Afterword
Appendix I: Draft Constitution of the Workers' Unity League of Canada
Appendix II: Federal Department of Labour Diagram of the Workers' Unity League, c. 1933
Appendix III: Charter for the Right to Live
Notes
Bibliography
Index
Subject Headings