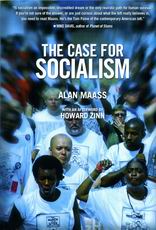 The Case for Socialism

Maass, Alan
Publisher: Haymarket Books
Year First Published: {30991 The Case for Socialism CASE FOR SOCIALISM Maass, Alan Haymarket Books An argument for socialism: a society built from the bottom up through the struggles of ordinary people against exploitation, oppression, and injustice -- one in which people come before profit. A society based on the principles of equality, democracy, and freedom. 2005 2010 160pp BC30991s-CaseforSocialism.jpg B Book 9781608460731 - <br> <br> <br>Table of Contents: <br> <br>Preface <br> <br>Introduction: The Case For Socialism <br>Why Capitalism Doesn't Work <br>Land of the Not-So-Free <br>The Scourge of War <br>What Is the Socialist Alternative? <br>How Do We Change The System? <br>"If There Is No Struggle, There Is No Progress" <br>Socialism, the Struggle, and You <br> <br>Afterword <br> <br>Acknowledgements <br> <br>What Else to Read <br> <br>Index CX12576 1 true true false CX12576.htm [0xc00045c4e0 0xc00089d2c0 0xc000857830 0xc00055b1a0 0xc000ca5fb0 0xc0001794d0 0xc000deef00 0xc000dd5a10 0xc000e46780 0xc0009db3e0 0xc000d684e0 0xc0014a12c0 0xc001fc3140 0xc0026e4030 0xc001542720 0xc00155f7d0 0xc0015d90e0 0xc0018dd0e0 0xc00192cc60 0xc00197ba40 0xc0019b8d50 0xc00230f200] Cx}
Year Published: 2010
Pages: 160pp ISBN: 9781608460731
Resource Type: Book
Cx Number: CX12576
An argument for socialism: a society built from the bottom up through the struggles of ordinary people against exploitation, oppression, and injustice -- one in which people come before profit. A society based on the principles of equality, democracy, and freedom.
Abstract:
-
Table of Contents:
Preface
Introduction: The Case For Socialism
Why Capitalism Doesn't Work
Land of the Not-So-Free
The Scourge of War
What Is the Socialist Alternative?
How Do We Change The System?
"If There Is No Struggle, There Is No Progress"
Socialism, the Struggle, and You
Afterword
Acknowledgements
What Else to Read
Index
Subject Headings