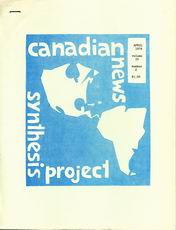 Canadian News Synthesis Project - April 1976
Volume IV Number 2
http://www.connexions.org/CxArchive/CNSP/Synthesis-1976-Volume04-Number02.pdf
http://www.connexions.org/CxArchive/Synthesis-1976-April-v4n2.html
Date Written: 1976-04-30
Publisher: Canadian News Synthesis Project, Toronto, Canada
Year Published: 1976
Pages: [34pp] Resource Type: Serial Publication (Periodical)
Cx Number: CX12204
The Canadian News Synthesis Project journal presents current news coverage to show major trends in Canada and Latin America.
Abstract:
This issue highlights the United Nations Conference on Trade and Development (UNCTAD) and Canada's position; Nairobi Report - Canadian observers monitor UNCTAD; Bryce commission; cost of living rises .4% in March; agriculture: vanishing farms, urban - industrial growth, and land use policies; Judd Buchanan attacks the Dene Declaration, Inuit call for Buchanan's resignation; Common Front negotiations continue into 10th month; security at the Summer Olympic Games (Montreal 1976); movement for media reform.
Special report: THE MEDIA ELITE
CNSP profiles the seven most important media complexes in Canada - who owns Canada's newspapers, how newspapers relate to wider corporate structures, and the extent of their influence on Canadian public opinion. In this issue: The Toronto Star.
Subject Headings