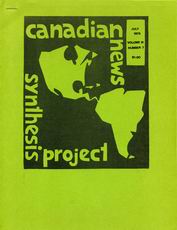 Canadian News Synthesis Project - July 1975
Volume III Number 7
http://www.connexions.org/CxArchive/CNSP/Synthesis-1975-Volume03-Number07.pdf
http://www.connexions.org/CxArchive/Synthesis1975-July-v3n7.html
Date Written: 1975-07-31
Publisher: Canadian News Synthesis Project, Toronto, Canada
Year Published: 1975
Pages: 45pp Resource Type: Serial Publication (Periodical)
Cx Number: CX12197
The Canadian News Synthesis Project journal presents current news coverage to show major trends in Canada and Latin America.
Abstract:
This issue highlights the Economic Council of Canada and option of Free Trade with the US; Native peoples in the Northwest Territories (NWT) demand independence from Canada; federal and provincial governments and control of social services; Medicare and housing shortage; immigration hearings and policy; NDP Convention and post-convention debate; Broadbent's election; International Women's Year Conference in Mexico.
Includes Historical chart of Native land settlements throughout Canadian History.
Subject Headings