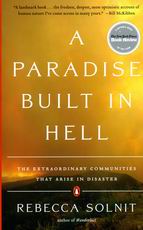 A Paradise Built in Hell
The Extraordinary Communities That Arise in Disaster
Solnit, Rebecca
Publisher: Penguin
Year Published: 2010
Pages: 368pp ISBN: 978-0-14-311807-7
Library of Congress Number: HV553.S59 2009 Dewey: 303.48'5--dc22
Resource Type: Book
Cx Number: CX12157
The most startling thing about disasters, according to Rebecca Solnit, is not merely that so many people rise to the occasion, but that they do so with joy. That joy reveals an ordinarily unmet yearning for community, purposefulness, and meaningful work that disaster often provides.
Abstract:
-
Table of Contents:
Prelude: Falling Together
I. A Millennial Good Fellowship: The San Francisco Earthquake
The Mizpah Cafe
Pauline Jacobson's Joy
General Funston's Fear
William James's Moral Equivalents
Dorothy Day's Other Loves
II. Halifax to Hollywood: The Great Debate
A Tale of Two Princes: The Halifax Explosion and After
From the Blitz and the Bomb to Vietnam
Hobbes in Hollywood, or the Few Versus the Many
III. Carnival and Revolution: Mexico City's Earthquake
Power from Below
Losing the Mandate of Heaven
Standing on Top of Golden Hours
IV. The City Transfigured: New York in Grief and Glory
Mutual Aid in the Marketplace
The Need to Help
Nine Hundred and Eleven Questions
V. New Orleans: Common Grounds and Killers
What Difference Would It Make?
Murderers
Love and Lifeboats
Beloved Community
Epilogue: The Doorway in The Ruins
Gratitude
Notes
Index
Subject Headings