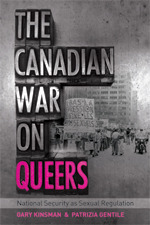 The Canadian War on Queers
National Security as Sexual Regulation
Kinsman, Gary; Gentile, Patrizia
Publisher: UBC Press, Vancouver, Canada
Year Published: 2010
Pages: 584pp ISBN: 978-0-7748-1628-1
Resource Type: Book
Cx Number: CX11939
From the 1950s to the late 1990s, agents of the Canadian state spied on, interrogated, and harassed gays and lesbians in a series of so-called national security campaigns. This book traces this history, revealing acts of state repression and forms of social resistance.
Abstract:
-
Table of Contents
List of Illustrations
Preface: National Security Wars -- Then and Now
Acknowledgments
List of Abbreviations
1. Queering National Security, the Cold War, and Canadian History: Surveillance and Resistance
2. Queer History and Sociology from Below: Resisting National Security
3. The Cold War against Queers: Social and Historical Contexts
4. Spying and Interrogation: The Social Relations of National Security
5. The "Fruit Machine": Attempting to Detect Queers
6. Queer Resistance and the Security Response: Solidarity versus the RCMP
7. The Campaign Continues in the 1970s: Security Risks and Lesbian Purges in the Military
8. "Gay Political Activists" and "Radical Lesbians": Organizing against the National Security State
9. Sexual Policing and National Security: Sex Scandals, Olympic Clean-Ups, and Cross-Country Organizing
10. Continuing Exclusion: The Formation of CSIS and "Hard-Core Lesbians"
11. From Exclusion to Assimilation: National Security, the Charter, and Limited Inclusion
12. From the Canadian War on Queers to the War on Terror: Resisting the Expanding National Security State
Appendix: Index of Interviews
Notes
Bibliography
Index
Subject Headings