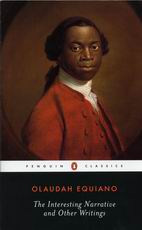 The Interesting Narrative and Other Writings

Equiano, Olaudah
Publisher: Penguin
Year First Published: {26705 The Interesting Narrative and Other Writings INTERESTING NARRATIVE AND OTHER WRITINGS Equiano, Olaudah Penguin Olaudah Equiano's Narrative recounts his kidnapping in Africa at the age of eleven, his service as the slave of an officer in the British Navy, and his years of labour on slave ships until he was able to purchase his freedom in 1766. As a free man on a Central American plantation, he supervised slaves; increasingly disgusted by his co-workers, he returned to England in 177. In England he worked for the resettlement of blacks in Sierra Leone, married an Englishwoman, and became a leading and respected figure in the anti-slavery movement. 1789 1996 394pp BC26705-Equianos.jpg B Book 987-0-14-243716-2 HT869-E6A3 305.5'67'092--dc20 By the end of the eighteenth century, the abolitionist movement in Great Britain began to gain momentum, ultimately leading to an act of parliament abolishing the slave trade in 1807. For decades abolitionists petitioned the government demanding the practice be eradicated. Fueled by English social activists and former slaves alike, the movement was distinguished by several authors who adamantly spoke out against the inhumane trafficking. Olaudah Equiano's The Interesting Narrative and Other Writings, published in several editions, the final of which appearing in 1794, presents one account of a former slave, who after purchasing his own freedom, moved to England and used his personal experiences to contribute to the abolitionists' cause. <br> <br>Describing his harrowing life, kidnapped at an early age and sold into slavery, the author documents his ordeals struggling to survive not only the burdens of slavery, but grappling with the complexities of living between the lines of race and identity as a free man. Presented in a linear narrative from his youth in the late 1750s to his marriage with an English woman in 1792, Equiano traces his past, providing readers with a first hand account of his experiences. Serving as an officer's slave in the Royal Navy, purchasing his freedom in 1766, working as a slave driver at a South American plantation and finally moving to England in 1777, his autobiography delves into several important themes of the time. Equiano's views on race, identity, slavery, religion, economics and politics characterize the author's ability to highlight the intricacies and contradictions of England's slavery policies, as well to provide a valuable insight to his life lived on the margins of English society. <br> <br>[Abstract by William Stevenson] <br> <br> <br> <br>Table of Contents <br> <br>Introduction <br>A Note on the Text <br>A Note on Money <br>Suggestions for further Reading <br> <br>THE INTERESTING NARRATIVE OF THE LIFE OF OLAUDAH EQUIANO, OR GUSTAVUS VASSA, THE AFRICAN. WRITTEN BY HIMSELF <br> <br>Explanatory and Textual Notes <br>Appendix A: The Frontispieces and Title Pages of the First London (1789) and New York (1791) Editions <br>Appendix B: A Note on the Illustrations <br>Appendix C: List of Subscribers to the First Edition <br>Appendix D: List of Subscribers to the New York Edition <br>Appendix E: Correspondence and Other Writings of Gustavus Vassa, or Olaudah Equiano, Not Published in The Interesting Narrative <br>Appendix F: The Will and Codicil of Gustavus Vassa [Olaudah Equiano] <br>Appendix G: Names of Subscribers Appearing after the First Edition CX11528 1 false true false CX11528.htm [0xc00254e750 0xc00254f410] Cx}
Year Published: 1996
Pages: 394pp ISBN: 987-0-14-243716-2
Library of Congress Number: HT869-E6A3 Dewey: 305.5'67'092--dc20
Resource Type: Book
Cx Number: CX11528
Olaudah Equiano's Narrative recounts his kidnapping in Africa at the age of eleven, his service as the slave of an officer in the British Navy, and his years of labour on slave ships until he was able to purchase his freedom in 1766. As a free man on a Central American plantation, he supervised slaves; increasingly disgusted by his co-workers, he returned to England in 177. In England he worked for the resettlement of blacks in Sierra Leone, married an Englishwoman, and became a leading and respected figure in the anti-slavery movement.
Abstract:
By the end of the eighteenth century, the abolitionist movement in Great Britain began to gain momentum, ultimately leading to an act of parliament abolishing the slave trade in 1807. For decades abolitionists petitioned the government demanding the practice be eradicated. Fueled by English social activists and former slaves alike, the movement was distinguished by several authors who adamantly spoke out against the inhumane trafficking. Olaudah Equiano's The Interesting Narrative and Other Writings, published in several editions, the final of which appearing in 1794, presents one account of a former slave, who after purchasing his own freedom, moved to England and used his personal experiences to contribute to the abolitionists' cause.
Describing his harrowing life, kidnapped at an early age and sold into slavery, the author documents his ordeals struggling to survive not only the burdens of slavery, but grappling with the complexities of living between the lines of race and identity as a free man. Presented in a linear narrative from his youth in the late 1750s to his marriage with an English woman in 1792, Equiano traces his past, providing readers with a first hand account of his experiences. Serving as an officer's slave in the Royal Navy, purchasing his freedom in 1766, working as a slave driver at a South American plantation and finally moving to England in 1777, his autobiography delves into several important themes of the time. Equiano's views on race, identity, slavery, religion, economics and politics characterize the author's ability to highlight the intricacies and contradictions of England's slavery policies, as well to provide a valuable insight to his life lived on the margins of English society.
[Abstract by William Stevenson]
Table of Contents
Introduction
A Note on the Text
A Note on Money
Suggestions for further Reading
THE INTERESTING NARRATIVE OF THE LIFE OF OLAUDAH EQUIANO, OR GUSTAVUS VASSA, THE AFRICAN. WRITTEN BY HIMSELF
Explanatory and Textual Notes
Appendix A: The Frontispieces and Title Pages of the First London (1789) and New York (1791) Editions
Appendix B: A Note on the Illustrations
Appendix C: List of Subscribers to the First Edition
Appendix D: List of Subscribers to the New York Edition
Appendix E: Correspondence and Other Writings of Gustavus Vassa, or Olaudah Equiano, Not Published in The Interesting Narrative
Appendix F: The Will and Codicil of Gustavus Vassa [Olaudah Equiano]
Appendix G: Names of Subscribers Appearing after the First Edition
Subject Headings