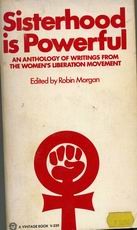 Sisterhood is Powerful
An Anthology of Writing From the Women's Liberation Movement
Morgan, Robin (Editor)
Publisher: Vintage Books
Year Published: 1970
Pages: 602pp Resource Type: Book
Cx Number: CX11517
The first comprehensive collection of writings from the Women's Liberation Movement, including articles, poems, photographs, and manifestos.
Abstract:
-
Table of Contents
Introduction: The Women's Revolution
'You've Come a Long Way, Baby': Historical Perspectives
Part I: The Oppressed Majority: The Way it is
1. Know Your Enemy: A Sampling of Sexist Quotes
2. The Dynamics of Marriage and Motherhood
3. Women in the Professions: Five Short Personal Testimonies
4. The Secretarial Proletariat
5. The Halls of Academe
6. Women and the Welfare System
7. Two Jobs: Women who Work in Factories
8. Women and the Catholic Church
9. Does the Law Oppress Women?
Part II: The Invisible Woman: Psychological and Sexual Repression
10. It hurts to be Alive and Obsolete: The Aging Woman
11. Media Images 1: Madison Avenue Brainwashing - The Facts
12. Media Images 2: Body Odour and Social Order
13. The Politics of Orgasm
14. 'Kinde, Kuche, Kirche' as Scientific Law: Psychology Constructs the Female
15. A Theory on Female Sexuality
16. A Psychiatrist's View: Images of Woman - Past and Present, Overt and Obscured
17. Unfinished Business: Birth Control and Women's Liberation
18. The Hooker
19. The Least of These: The Minority Whose Screams Haven't Yet Been Heard
20. Notes of a Radical Lesbian
21. Sexual Politics (in Literature)
Part III: Go Tell it in the Valley: Changing Consciousness
22. Resistances to Consciousness
23. Women in the Black Liberation Movement: Three Views
24. High School Women: Three Views
25. Colonized Women: The Chicana
26. Experiments in Freedom: Women of China
Part IV: Up from Sexism: Emerging Ideologies
27. The Grand Coolie Damn
28. Institutionalized Oppression vs. The Female
29. The Politics of Housework
30. Social Bases for Sexual Equality: A Comparative View
31. Self-Defense for Women
32. Female Liberation as the Basis for Social Revolution
Part V: The Hand that Cradles the Rock: Protest and Revolt
33. Poetry as Protest
Historical Documents
Verbal Karate: Statistical and Aphoristic Ammunition
Appendix
Bibliographies
Subject Headings